FAQs about DWeb Camp
Here are the actual questions (and answers) you've posed to us in the lead up to the DWeb Camp.
About the location:
Q. How warm should we dress?
A: You know what Mark Twain so famously said: "The coldest winter I ever saw was the summer I spent in San Francisco." So be sure to bring layers! Often the California coast can be shrouded in fog. It never rains in this spot in July (the almanac says) but temperatures usually range from 72-53 degrees. You might have a sunny morning where you wear shorts, a foggy afternoon where you throw on a sweater and a chilly evening where a jacket and long pants are definitely a good idea.
No one can swim in the Pacific ocean here without a wetsuit. And bring wetsuit booties to hike through the local stream!
Q: Are there flush toilets and working showers?
A: Yes! You are in luck. There are working facilities throughout the campgrounds, but we may need to supplement with additional non-flush toilets. Below is a photo of the showers on the Farm.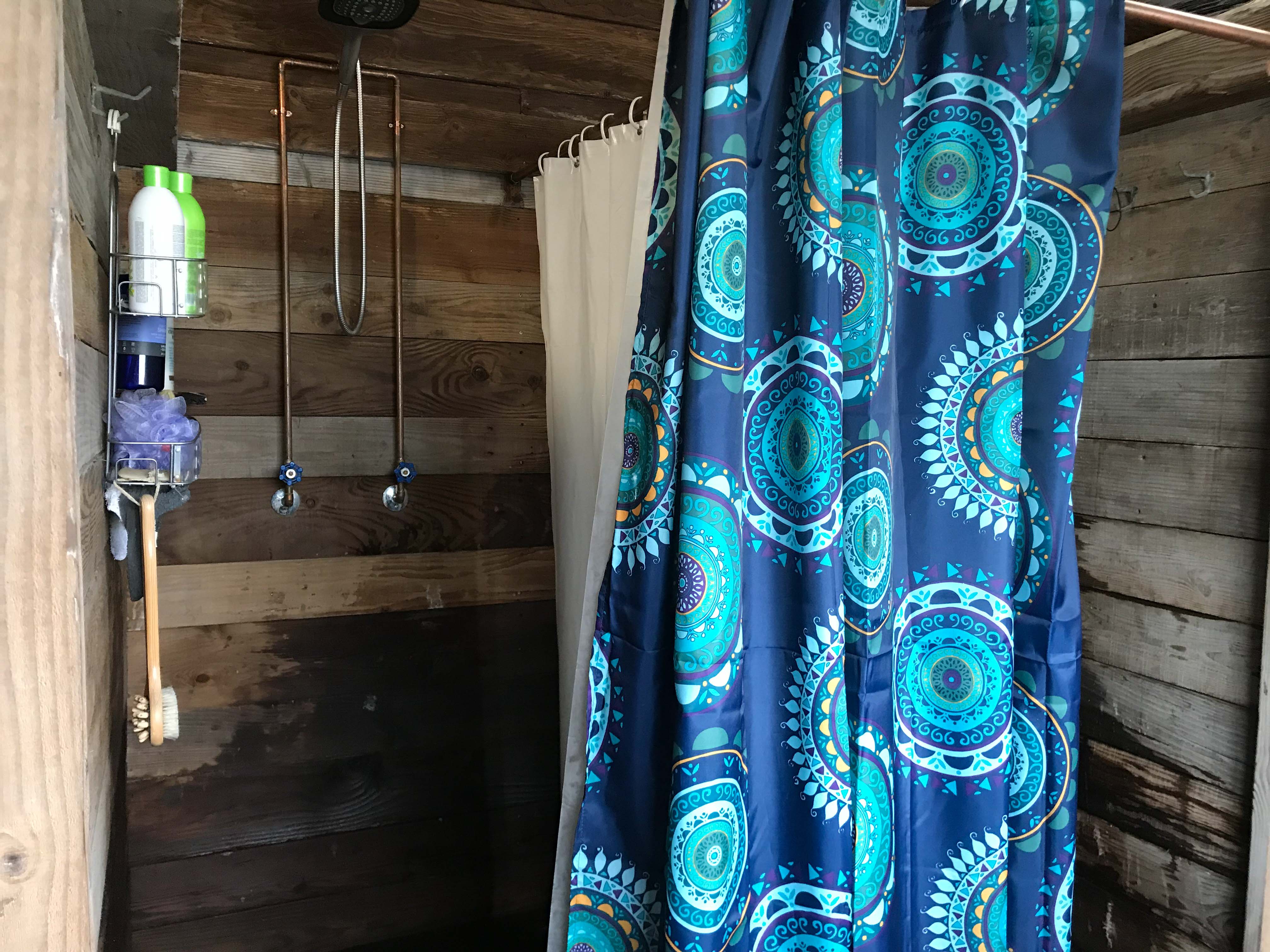 About Transporation:
Q: I live in San Francisco and I don't own a car. I would have to figure out transportation and lodging.
A: We will be posting a rideshare page for people to travel to the Camp together. If there's a demand, we'll be running a few shuttles from San Francisco to the DWeb Camp and back for a nominal fee.
Regarding lodging:
You can bring your own camping gear.
You can rent a 5 meter canvas tent with a mixture of queen or twin cots and bedding/towels from the Farm for $400; these can easily sleep 3-4 adults.
You can borrow or rent an RV (there is an Air B-n-B for RVs that can be pretty affordable.) We will have spaces for RVs for a nominal RV parking charge.
If you REALLY hate camping, you could stay at the nearby Costanoa Lodge, which also has luxury glamping tents, a lodge, and cabins. It books up fast, so I'd act now.
Who Should come?
Q: Would this camp be something useful for someone pretty new to decentralized apps? (and would I be useful?)
A: Yes! We believe this event will be exciting, enlightening and maybe even transformational for coders of all abilities, as well as creatives, legal & policy folks, and anyone deeply engaged in creating the Web we want and deserve.
My holy grail: in 2016, a woman who was just graduating from coding school told us she found her future employer, life partner and best friends at our Decentralized Web Summit. We want to open doors and create new paths that don't exist today so the Decentralized Web will be a wide tent, where everyone can see a way to contribute.
Q: I want to attend myself, plus encourage 5 of my coworkers/friends to join. We all work to decentralize the internet. I'm curious about the events, as we may want to have some events ourselves while there.
A: We encourage radical sharing: bring your talents, workshops, musical instruments, topics to discuss, or hacking projects.
You could also organize a Game Night, or host a Tea Tent.
Let us know what you'd like to plan by filling out the PROJECT form. That way we can help get you situated and on the central schedule board.
I live nearby, so can I join people before the event to setup and test things?
The Open Dialogue calls are good time to discuss how you'd like to get involved! Here are our last Open Dialogue call notes from May 1.
In mid-June there will be a meetup at Internet Archive where we can plug these into a small mesh net to test things out. Keep an eye out for the announcement of that date.
How friendly is the camp to children? I would like to make it a family event.
We welcome kids and teens of all ages! We'll have part of the camping area dedicated to families with small children and are planning several activities that we think will appeal to kids. Here are some examples:

Hike to the beach
Explore the creek with a guide
Medicinal plant walk
Acrobatic yoga (possible)
Face painting (to thwart facial recognition software)
Building with Raspberry Pis
Game night
Mushroom inoculation classes
Live music jams
Juggling, stilt-walking & puppet making (possible)
Playing with drones
Cooking with solar cooker
Interactive music projects

Q: How can I be involved?
A: There are so many ways to participate:
Volunteer: You can come help us build, run, or take down the camp from July 15-23nd. That could be anything from erecting the Domes to painting signs to decorating former farm rooms. It will be a time for a smaller group of volunteer "Links" to bond and build community. Plus we'll have a blow out staff party Sunday night to celebrate our hard work.

Lead a Project: You could bring your talents and ideas and workshops. This will be crowd-sourced and community driven, with lots of opportunities for both planned and Pop Up workshops and sharing.

Lead a discussion: In an "Open Space" format, you could lead the kind of cross-sector talks that get to the heart of the matter.

Become an Organizer: At the most time-intensive level, you could become a coordinator of some aspect of the camp--from running a scholarship program to scheduling lightning talks. Check our Help Wanted Postings in Git Hub to see what kind of help we need right now.

Suggest a new role: Offer up the role that best fits your skills! For instance, we were thrilled when one camper offered to bring his video gear and run the Live Streaming for us--something we hadn't thought possible.
Q: What are some ways of furthering more "peer discovery" to initiate important and challenging conversations? Maybe some of this has to do with the "ideological topology" of scheduling and layout?
A: This is one of our true goals. To help participants connect internally with the values that drive their work; to connect with each other in new and surprising ways, and to connect with the environment. So we'd love to have your input and help in creating the right "topology" or "containers" to enable that to happen.
That's why we decided to camp--it breaks down barriers and encourages community and communication. We'll be cooking, harvesting vegetables, washing dishes, hiking, hacking, dancing, making music, swimming, building sculptures—together.
Financial Support:
Q: Due to my financial circumstances, I would very much like to volunteer to cover %100 of the related costs. I read that there is available financial aid, how can I apply for that?
A: Go to the Participate page and fill out the Volunteer form.
Here's what we are planning:
If you come during the camp July 15-21 (Thursday-Sunday) and volunteer for 3-four hour shifts (total of 12 hours) on a team like parking, food service, welcome & information, set up--you can get a 50% reimbursement of your registration. EG--If you are an employee of a small university, your registration fee would be $400. So you would qualify to get $200 back.
If you can spare more time and come for the Build portion of the camp (Monday-Wednesday, July 15-17) or the Take Down portion (Monday-Tuesday, July 22-23) then you can qualify for 100% ticket reimbursement by dedicating six 4-hour shifts, (total of 24 hours.) Or you can do a mixture of shifts before, during and after Camp to make up the time you want to put in.
Q: I live in New Zealand, and I'd love to know if there's any support for people traveling from further afield - scholarships around tickets or travel.
A: We have three ways you can reduce your fees:
Volunteer! You can earn a 50% to 100% ticket reimbursement by volunteering.

Global Fellows: We will have a number of travel stipends ($2200/each) and ticket reimbursement for our Global Fellows, participants primarily working with communities that could most use these DWeb tools. Global Fellows are encouraged to also become volunteers.

Scholarships: For those who cannot volunteer we will offer a few scholarships based purely on financial need. See the scholarship application form for more details. A Scholarship Committee will review those applications and let you know.
The number of scholarships, Global Fellows and even volunteers is based on sponsorships raised, so the number will vary over time.
About Families and Pets:
Q: Will it be kid friendly?
A: Yes! And the first 20 children under the age of 12 can come for free. Children ages 12-17 are $100. We will have a family camping area, where you can pitch your tent away from the music and late night gatherings. We will also have a family area with activities that young kids can enjoy.
Many of the activities will also appeal to all ages: from harvesting food for our meals, hiking up the local stream, going to the beach, to live music jams and yoga.
However, you will be expected to be responsible for your children at all times. We won't have babysitting and you can't just drop your kids off at an activity. So if you imagine yourself fully participating in workshops, parties, hack-a-thons and more, I think you should plan on bringing another adult who can help you supervise the kids.
Q: Will you have a tent big enough for 2 adults, 2 kids, and baby? Or hostel or RV (if able to rent RV)
A: Good question! The Farm is renting 5-meter canvas tents which come with a mixture of queen and twin cots. 3-4 adults can easily sleep in one of these tents. I think it would be a squeeze, but very doable. Each tent is $400+ for the 3 nights. Other options:
We will have spaces for RVs for a nominal RV parking charge. Online, RV rental prices range from $100/night to $300+ for RVs that sleep 6.
Q: Would like a little more information on the schedule and activities to know if I will actually bring family.
A: That is still a work in progress--and if you'd like to help us plan the family activities, we wouldn't say no. We will continue to update the PROJECTS and SCHEDULE so you can see if you think this is a fit for your family.
What we know:
First 20 kids under 12 will come for free; after that, children will be $100 (to cover the cost of their meals)

We'll have a separate family camping area, in a quiet spot

There will be nature hikes, walks to the beach, beach drawing, sewing, solar cooking, harvesting food for our meals, yoga and more.

Children must be accompanied by a parent at all times--we won't be offering babysitting services.

Location is also minutes away from Ano Nuevo State Park where the Sea Elephants will be giving birth to their pups--so booking a walk there would be a fun activity.
Q: Are small dogs allowed?
A: No, sorry no pets. There are coyotes and mountain lions roaming the area. Plus several dogs already live on the farm and even they need to be carefully kept indoors at night due to possible predators.
About Accessibility:
Q: The area looks beautiful, but... How accessible is the area, and how difficult will it be for someone with mobility issues to get around? I often have difficulty walking distances over 500m, especially on rough terrain.
A: The main meeting/camping areas are all connected by pavement or roads and relatively close together. We will be also using a field with that is certainly more than 500m away. A car can drive to that field though, so we should be able to help you get there and back as needed. The Farm has two golf carts and we can also put those in service with enough volunteer help.
Q: Can this event be attended by a mainly wheelchair-bound female techie? I told her about the conference last year & she wanted to attend this year's event. How inclusive will this event be? Is this like a mini Burning Man w/ electric equipment/ generators hauled in?
A: It's on a farm and ranch that is private land, so the terrain is variable. It is not quite like a mini-Burning man--we will be near power and bathroom facilities--but living in tents in fields, eating in domes on grass, hiking to the beach. The main events (eating, dancing, gathering, workshops) are all on one level, mostly connected by pavement. The camping areas themselves are up a hill but accessible by a paved road. So with help, a wheelchair-bound attendee would be able to participate in most activities on the farm. Hikes into the wilderness and beach would be very hard however.